Santulan Treatment Charges
Rates for Santulan Panchakarma and Wellness Packages
10 Days
Type
Rooms
Therapy
Total
Suite
₹ 49

000

₹ 30650
₹ 79

650

Twin Room Superior – AC
₹

46000

₹ 30650
₹

76650

Twin Room Superior – Non AC
₹

42000

₹ 30650
₹

72650

Superior – AC
₹

39000

₹ 30650
₹

69650

Superior  – Non AC
₹

34000

₹ 30650
₹

64650

Deluxe – AC
₹ 31000
₹ 30650
₹

61650

Deluxe – Non AC
₹ 27000
₹ 30650
₹ 57650
Budget
₹ 21000
₹ 30650
₹ 51650
15 Days
Type
Rooms
Therapy
Total
Suite
₹

73500

₹

45500

₹

119000

Twin Room Superior – AC
₹

69000

₹

45500

₹

114500

Twin Room Superior – Non AC
₹

63000

₹

45500

₹

108500

Superior – AC
₹

58500

₹

45500

₹

104000

Superior  – Non AC
₹

51000

₹

45500

₹

96500

Deluxe – AC
₹

46500

₹

45500

₹

92000

Deluxe – Non AC
₹

40500

₹

45500

₹

86000

Budget
₹

31500

₹

45500

₹

77000
22 Days

Type
Rooms
Therapy
Total
Suite
₹

104500

₹

63000

₹

167500

Twin Room Superior – AC
₹

96140

₹

63000

₹

159140

Twin Room Superior – Non AC
₹

87780

₹

63000

₹

150780

Superior – AC
₹

81510

₹

63000

₹

144510

Superior  – Non AC
₹

71060

₹

63000

₹

134060

Deluxe – AC
₹

64790

₹

63000

₹

127790

Deluxe – Non AC
₹

56430

₹

63000

₹

119430

Budget
₹

43890

₹

63000

₹

106890
30 Days

Type
Rooms
Therapy
Total
Suite
₹

135000

₹

80000

₹

215000

Twin Room Superior – AC
₹

124200

₹

80000

₹

204200

Twin Room Superior – Non AC
₹

113400

₹

80000

₹

193400

Superior – AC
₹

105300

₹

80000

₹

185300

Superior  – Non AC
₹

91800

₹

80000

₹

171800

Deluxe – AC
₹

83700

₹

80000

₹

163700

Deluxe – Non AC
₹

72900

₹

80000

₹

152900

Budget
₹

56700

₹

80000

₹

136700
Santulan treatment package is a holistic Healing program which includes Yoga, Pranayam, Meditation, Planned Diet, Satsang and Lectures on various topics and living with nature to restore your body balance.
Single day room rates:  Suite Rs.4900/- , Twin Room Superior A/c Rs.4600/- , Twin Room Superior Non AC Rs.4200/-, Superior AC Rs.3900/-, Superior Non AC Rs.3400/-, Deluxe Ac Rs.3100/- Deluxe Non AC Rs.2700/-, Budget Rs.2100/-.
Specialized treatments, prescribed by the doctors viz. Spine Potli, Rice message, Shiro Basti, Uttar Dhoop, Uttar Basti, Shiro Lep, Kidney Lep, Kadha are not included in the standard therapy package. Additional charges are payable (for details, please enquire at the reception).
Uttar Basti Package, 5 days with 2 Uttar Basti  @ Rs.9500/-(excluding room charges)
Uttar Basti Package, 7 days with 3 Uttar Basti  @ Rs.13800/-(excluding room charges).
Children up to 12 years of age will be accommodated free of charge (without extra Bed).
 Any extra person in the room will be charged as follows:
Suite, Twin Superior and Superior Rooms @ Rs.750/- per day and Deluxe and Budget @ Rs.600/- per day (with extra mattresses on floor).
Prior to your booking, please see our detailed 'Booking Information Brochure' for all
further information. Please read rules and regulations at the end of the brochure.
If the booking period is changed more than once a processing fee of ₹500/- will be chargeable.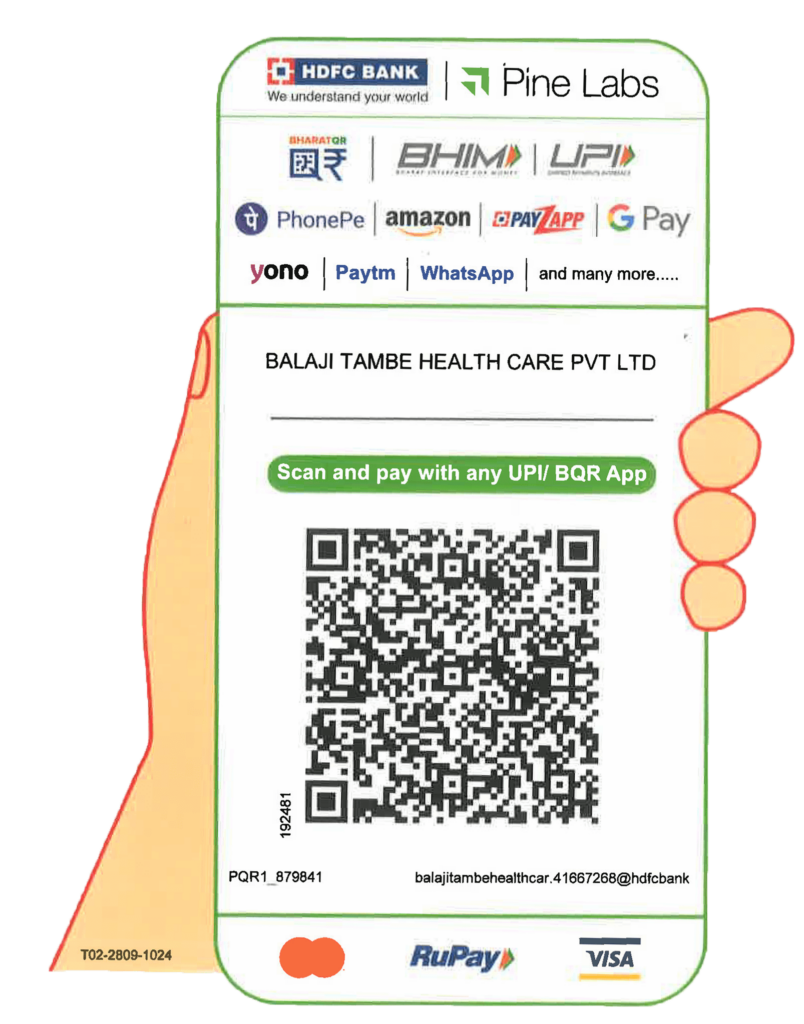 BANK NAME :  HDFC BANK
BRANCH : LONAVALA
IFSC CODE NO : HDFC0000474
ACCOUNT NAME : BALAJI TAMBE HEALTH CARE PVT LTD.
ACCOUNT NO. : 04742560000791
Rates effective from 1st June 2022. These rates supersede all previous rates and can be revised at the discretion of the management without prior information.